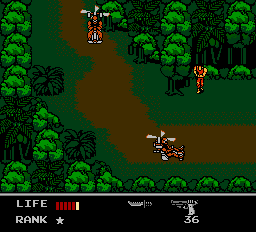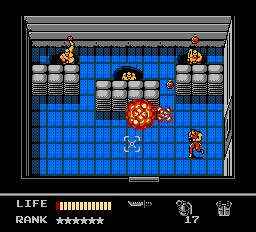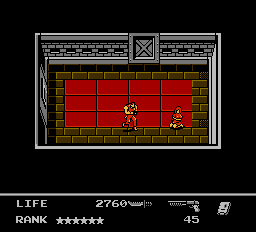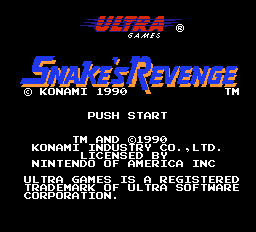 As previously mentioned, the visuals are similar to the first game, but with a little more detail. The characters are a bit more detailed, and the enemy to boss proportion is different. Where the first game had more bosses than normal enemies, in SR there are more normal enemies than there are bosses. Snake fights a good variety of enemies that include variations of your token guardsmen, grenade-throwers, gas mask-wearing jerks, walking gunner-robots, and even airborne light helicopter troops (which were loosely reintroduced in Metal Gear Solid 3). Bosses are typical Metal Gear fare in their unorthodox design; Snake goes up against a squad of fat-fucks with grenades, a huge tank (ala MG), a rushing team of roid-heads in football gear, and Big Boss, along with a pissed mecha version of Big Boss.
As for Snake, some say he looks like steak-head, but I think he looks cool; in MG, the enemy was bigger, but in SR he's built enough to make short work of any takers (especially with the knife he's been given). Although his vertical running animation could have been slightly better, Snake animates well, and so do the rest of the characters in the game. There are also a few different types of hostages; in SR, Snake saves standard, information-bearing hostages (as in the first game), unarmed enemy personnel (who usually need to be sprayed with Truth Gas before spilling their guts), and even Jennifer from MG (a familiar friend who Snake seems to stumble in on during a bondage picture-shoot)!
Last but not least, the audio of SR. I haven't heard much about this part of the game either because many who judge SR haven't even heard the game (let alone played it), or because it sounds good. The music is just as catchy as that of the original MG, with a tone of urgency that keeps you in the game. There are some good parts in SR. Some may say that the music in SR is horrible when compared to MG, but both games have some good tunes that are easy to get into. The sound effects are good, too; you can tell it's a Konami game by the way the explosions and gunshots sound. There are other games on the same hardware that I think have better audio (Code Name: Viper, for example), but what you hear in SR accompanies well what you see onscreen. Plainly put, it sounds like a Konami game (which is good, since they've always had great music programmers).
So, considering what I have talked about thus far, some may be wondering why it is that "fans" are shitting on SR left and right if it's such a good game. Well, SR isn't a perfect game, and neither is MG; both have flaws which prevent them from being perfect games. However, most of the critics hate SR because it was supposedly not developed in Japan, but in America. It is assumed that because SR was developed in America that the game wasn't made by a Japanese team (like the first game), but this seems wrong. I recently finished the game again, and Japanese names came up in the staff credits; K. Yamashita, Y. Okuda, and S. Fukuoka, were listed as programmers, and A. Nozaki was listed for graphics. Now, if SR wasn't developed by a Japanese team, then why are there Japanese names in the staff credits (along with their corresponding roles in development)? Sure, maybe Kojima didn't direct SR, but the game seems to have been made by staff that came from Konami Japan. Either way you go, it's stupid to hate the SR because it was developed in America; I love Japanese games, too, but it shouldn't matter as long as development lies within Konami and its staff. Snake's Revenge is good.