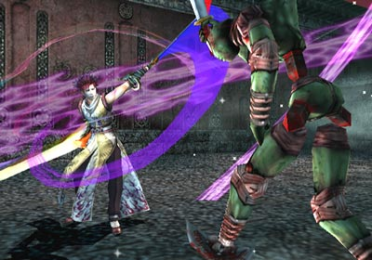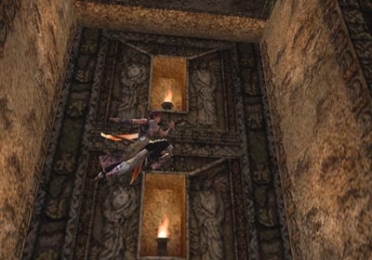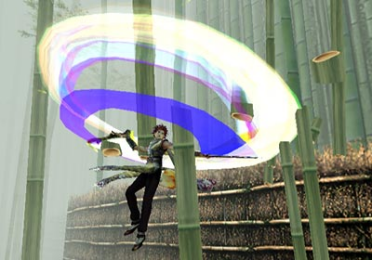 Where Capcom has always had a traditional approach to the action genre, and Konami an unorthodox approach, Taito has always been somewhere in the middle, but closer to Capcom's school. Bujingai came out a little after Devil May Cry 2, and its sword-slashing gameplay shows it. There are no guns in the game, and in an interview the game's producer says it was inspired by Honk Kong films, but several elements its sword-fighting action seem to have been influenced by DMC. In fact, I'd go so far as to say that the swordplay in this game is just as good (if not better) than in DMC. You have all the fancy swordplay from DMC here, but with some major differences in execution. Performance ranking seems is more forgiving than in DMC, yet challenging.
First, the combo meter is more forgiving in this game than in DMC (thankfully), giving you enough time to do bigger combos. My highest was 151 Hits! Moves are linkable, and even though there are spells in the gamespells are alright, they aren't easily put into combos.
Second is the flashy counter-attack system, which essentially allows you to gain the upper-hand by parrying an attack. There are different types depending on what type of attack is being parried, but the coolest is against enemies who have the same ability; you become locked in a choreographed duel as glitzy pyrotechnics erupt in the collision of blades. Not only do the fancy pyrotechnics and laser show look cool, but it's easy to perform, too. Did Capcom get the idea of the DMC parry system from this game?
Third, running on walls is also easier than in DMC (where there's no room for error). And it's a good thing, because mastering it is essential for the parts where there are no platforms. The platforming parts are actually fun, and they're not annoying as hell (unlike a lot of other games in the genre)! Instead of falling once, dying, and going back all the way to the beginning of the stage, you fall and it starts you at the point you were last standing. Props to Taito for this. It may seem too easy from this description, but there are a few mean platforming parts that benefit from it. Gliding in this game is pretty cool, too (even if it could have been better with a shorter delay between the jump and the glide). It also goes hand-in-hand with running on walls.
The levels are divided into sections, and you can plow through them or take your time and find all of the items. Lots of exploration and plenty of shit to break and collect. Aside form the typical health power-ups there are also hidden items like spells, bonus coins, and currency for power-ups. There are even parts where you cut bamboo in search of items. It becomes tedious, but it's still pretty fun, and it looks pretty cool, too. There may not be objects or interactive junk everywhere, but there's enough to have fun breaking.